Capital Radio Round Table
On Tuesday, June 6th from 8:00-8:50, Comunycarse´s Victor Magariño was asked to join a roundtable on Capital Radio to discuss a range of topics relating to the current technological environment in the world and how it relates to recent events. Victor was joined at the round table by Cesar Tajes, Director at Instituto Superior de Bolsa, Inversion, y Finanzas (ISBIF) and JI Bartolome from Economistas Frente a la Crisis (EcoEFC ).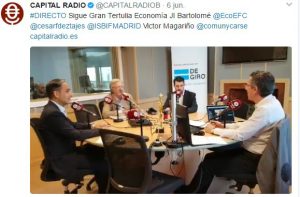 Capital Radio stays on top of the most current economic and world news, and frequently invites business leaders to share their expertise on various subjects. Listeners can expect to stay abreast with the latest events and to expand their business acumen.
This roundtable was directly related to the breaking news over the weekend, including the tragedies in London. Victor explained how technology plays a key role in the prevention and immediate reaction against terrorist attacks. In these situations a quick response saves precious time, and time means human lives. This technology has been available for a while but it is not cheap.
He also mentioned how GAFA is now taking over our households with Amazon´s Echo (introduced two years ago), Google Home (last year) and the recently introduced Home Pod from Apple. He discussed what kind of implication this will have with regards to Data Protection, Data Sovereignty and MiFID II European laws.
Finally with thousands of students going through their Examen de Selectividad this week, speakers commented on how critical it is today to figure out what to study in order to be prepared for the future workplace. Víctor pointed out the American system by which you first choose and get chosen by a University and then afterwards decide and build your own study path, vs exactly the opposite in the Spanish system.
You can listen to this roundtable here, with the title Capital, la Bolsa y la Vida – Tertulia (8:00 – 8:50) – Martes 06/06/2017. For future programs you can tune into Capital Radio on the below dials, depending on your location.